Saturday, April 4, 2009
CHAMBER JAZZ ENSEMBLE– a group of diverse musicians from the East and West Coasts come together, in various combinations, for this innovative classical-jazz crossover concert.
VARDAN OVSEPIAN, Piano, brings a fascinating international background to the L.A. Musical Salon.Born in Armenia, Mr. Ovsepian began playing piano at age five.He graduated from the Melikyan Music College, majoring in Music Theory; the Yerevan State Conservatory, majoring in Classical Composition; and the Estonian Music Academy where he studied Contemporary Composition.To broaden his musical reach, Mr. Ovsepian attended the Helsinki Jazz Conservatory in Finland, where he studied with Frank Carlberg, First Prize winner of the Cognac Hennessy Jazz Search, one of the most prestigious jazz competitions in the world.Mr. Ovsepian subsequently graduated from the Berklee College of Music in Boston, where he studied piano performance.
Currently, Mr. Ovsepian pursues an active teaching and performance career.He teaches at The Musical Suite in Newburyport, Massachusetts, and in recent years has also taught master classes at the Fairbanks Summer Arts Festival in Alaska; Maine Jazz Camp; Towson University in Maryland; Susquehanna University and Bucknell University, both in Pennsylvania.
Performances include both solo and with other artists such as Mick Goodrick, Peter Erskine, Jerry Bergonzi, George Garzone, Hal Crook and many others. His recently formed group VOCE (Vardan Ovsepian Chamber Ensemble) incorporates violins, cello, flute, celtic harp, duduk, double bass, percussion and piano, in varying combinations.Mr. Ovsepian has released four CDs for the Fresh Sound-New Talent label.
Mr. Ovsepian's extraordinary talent and extensive education has helped him create a very distinctive style. He blends his classical influence with jazz and the traditional tones from his home country of Armenia, creating his own innovative approach that will, as one critic said, "help define the future course of jazz."
For more info on Mr. Ovsepian, go to http://www.vardanovsepian.com/
JOSHUA DAVIS, Double Bass,is currently Director of Jazz Studies on the faculty at Susquehanna University in Pennsylvania.He previously held the same position on the faculty at Towson University in Maryland, and before that taught at the Berklee College of Music in Boston for six years, where he was the youngest faculty member, and at the University of Maine at Augusta.
Avidly dedicated to music education, in addition to his faculty duties Dr. Davis has taught performance skills clinics at the Berklee College of Music; the Koyo Conservatory in Kobe, Japan; the Fairbanks Summer Arts Festival in Alaska; and various schools of all grades throughout the United States.He is often called upon for elementary and secondary school student and educator presentations on ensemble coaching (both big bands and small contemporary ensembles), and general music presentations on listening and performance appreciation.
Maintaining a busy performance schedule, Dr. Davis' early jazz career included numerous overseas tours with The Artie Shaw Band and The Ritz.He was an active orchestral bassist in the 1990s, and has been principal bassist with The Granite State Symphony Orchestra and the Fairbanks Summer Arts Festival Orchestra.More recently, Dr. Davis leads the improvisation ensemble Squashua and accompanies the Tim Miller Trio, VOCE, the Vardan Ovsepian Quintet and others.Recent recorded releases include Tim Miller's Trio and Vardan Ovsepian's Akunc, on Fresh Sound Records.
As a composer, Dr. Davis' catalog includes chamber music, jazz and contemporary classical, works for big band, and a recent piece for wind symphony with improvisers.Current creative projects meld symphonic technique and literature with improvised form and interpretation.
Dr. Davis received his Doctor of Musical Arts degree from the University of Maryland at College Park, with a major in Composition; his Master of Music degree in Orchestral Double Bass from the New England Conservatory of Music; and his Bachelor of Arts degree in Theory/Composition from the University of New Hampshire.He has studied privately with John Hunter, Larry Veal, Neil Sir, Donald Palma and Dr. Thomas DeLio.
For more info on Dr. Davis, go to http://www.joshuadavis.org/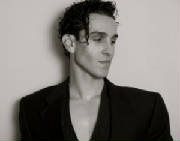 GAVIN SALMON, Drums, experienced the beauty of music around the age of six, making up songs in his backyard.He had been given drums while still in diapers, but it wasn't until melody and lyrics started to come from within himself that he experienced the deep stirring, a feeling that he came to realize was a part of life that he couldn't do without…
His performance career started at age fifteen playing Bossa Nova and jazz in restaurants, and progressed to performing on the California blues club and festival circuit.At sixteen, he was awarded the drum chair in the prestigious Monterey Jazz Festival High School All Star Big Band.
Mr. Salmon received his Bachelor of Music degree in Jazz Studies from the USC Thornton School of Music. While at USC, he took a year off to tour the United States and Canada with Universal recording artist Reeve Carney, and even during his studies maintained a busy performing and recording schedule. He has had the joy and pleasure of working with artists such as Bobby McFerrin, Adam Levy, Al Jarreau, Gary Burton, The Clayton Brothers, The Heath Brothers, Bob James, Louie Bellson, Stanley Jordan, Peter Salett, Nikki Flores, Tigran Hamasayan, Taylor Eigsti, Julian Lage, Brian Green, Andrew Mckay, Bob James, Joey Ryan, Hitomi Oba, Benjamin Peeler, Marvin Etzione, CoCo Sumner and many others. In addition to performing, Mr. Salmon has also been an instructor at the Monterey Jazz Festival summer workshops.
Currently, Mr. Salmon is in the process of producing his first album as a leader, in the chamber jazz style. He plans to continue recording, performing and touring as a creative musician … and to develop as a painter and humanitarian.