"My senses were completely concentrated…. The delightful interaction between the guests and the wonderful performers added immensely to the experience!"
— Fiona Karlin, audience member
For our 2010 season, we hosted three outstanding groups of guest artists in a varied offering of programs.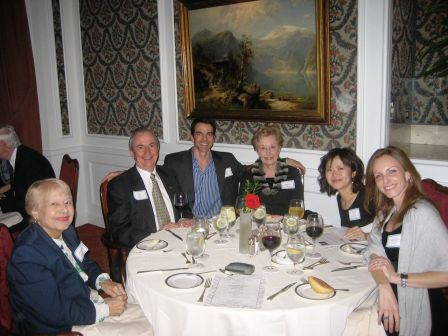 Saturday, February 6, 2010
THE UPSTREAM ENSEMBLE – we enjoyed the beloved "TROUT" piano quintet by Franz Schubert, and were treated to a special SNEAK PREVIEW of the new chamber work in progress which the L.A. Musical Salon has commissioned from concert pianist, composer and chamber musician Marek Zebrowski, based on the rarely heard Brahms Triumphlied. Mr. Zebrowski performed at the piano with Joel Pargman, violin; Thomas Lea, viola; Simone Vitucci, cello; and Steve Dress, double bass.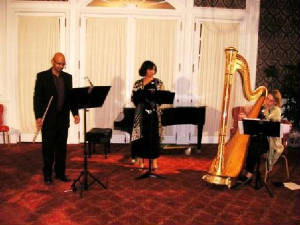 Saturday, March 6, 2010
AURIA TRIO – this unique trio of harpist Andrea Thiele, flautist Michael Morton and soprano Yolanda West presented a wide-ranging and fascinating program titled "The Many Faces of Love," sweeping from Handel, Debussy and Bizet favorite Carmen, to George Gershwin, John Williams and spirituals, with a mix of both vocal and instrument-only selections.  Our 2010-2011 Artist in Residence, pianist Rose Chen, joined the Trio for part of the program.
Saturday, April 3, 2010
LYRIS QUARTET — a fabulous string quartet discovery, featured at one of LACMA's Sundays Live series in December 2009. Superb cellist Tim Loo, violinists Alyssa Park and Shalini Vijayan, and violist Luke Maurer will explore some of the wonderful string quartet repertoire for us.