Saturday, February 6, 2010
MAREK ZEBROWSKI, Piano
Marek Zebrowski, multi-talented concert pianist, composer, chamber musician, teacher and author, began studying piano at the age of five. After graduating with highest honors from the Poznań Music Lyceum in his native Poland, Mr. Zebrowski studied in France with Robert Casadesus and Nadia Boulanger, and at the New England Conservatory of Music in Boston with Russell Sherman, where he received his Bachelor's and Master's Degrees.
Hailed as "strong and noble" by the Washington Post, "firm and eminently musical" by the Boston Globe, and accorded highest accolades by the international press, Marek Zebrowski has appeared as soloist in recital and with symphony orchestras throughout the world. He has recorded works by Bach, Beethoven, Chopin, Debussy, Scriabin and Prokofiev for Polish Radio, and works by Ravel and Prokofiev for Apollo Records in Germany. His performances and compositions are featured on the Titanic Records and Harmonia Mundi labels.
Recognized as a composer with a catalogue of orchestral and chamber works, piano compositions and transcriptions, and film and stage scores, Mr. Zebrowski has received commissions from Meet the Composer and The New England String Quartet, among others, as well as composition prizes in the Netherlands. Mr. Zebrowski's works were premiered throughout the United States, Germany, Italy, The Netherlands, Poland and South Africa. For the past several years he has collaborated with film director David Lynch; their album of free improvisations, Polish Night Music, was released in April of 2008.
Mr. Zebrowski has lectured for the Pacific Symphony Orchestra, Boston Symphony Orchestra, Harvard University and The New England Conservatory of Music, and for several years was a contributing writer for the Boston Book Review. He has given master classes and has coached various chamber music ensembles and chamber orchestras. His academic career included teaching at the University of Massachusetts, the Massachusetts Institute of Technology, and UCLA.
Currently residing in Los Angeles, Mr. Zebrowski maintains a busy performance career both in the U.S. and abroad, as well as serving as Program Director for the Polish Music Center at USC and as Artistic Director of the Paderewski Festival in Paso Robles, California.
Marek Zebrowski is a Steinway Artist. His books, Paderewski in California and Chopin, Paderewski, and the Polish Piano School will be published in 2010.
JOEL PARGMAN, Violin
Violinist Joel Pargman graduated summa cum laude (BM '02, MM '04) from the USC Thornton School of Music in Los Angeles. While there, he studied violin performance with Robert Lipsett on a full scholarship, and served as a teaching assistant in violin and music history. As a member of the Denali Quartet, Mr. Pargman is beginning his fifth year as artist-in-residence for Santa Monica's critically acclaimed Jacaranda concert series. He currently resides in Los Angeles with his wife, violinist Carrie Kennedy, and performs regularly with the Los Angeles Chamber Orchestra, the Santa Barbara Chamber Orchestra, Musica Angelica Baroque Orchestra, the Pasadena Symphony, and the Riverside Philharmonic.
Mr. Pargman spent three summers as a Fellow of the Tanglewood Music Center, the last as a member of its resident new music quartet, the New Fromm Players, collaborating in performances with the Mark Morris Dance Company, Bright Sheng, John Harbison, and the many talented Composition Fellows in residence. In addition to his live performances, Mr. Pargman has recorded on recent albums of such diverse artists as Ben Harper, Andrea Bocelli, Jamie Foxx, Joe Cocker, Travis Tritt, Fall Out Boy, Kenny Loggins and Sean "Diddy" Combs, and has performed on the soundtracks of over a dozen feature films.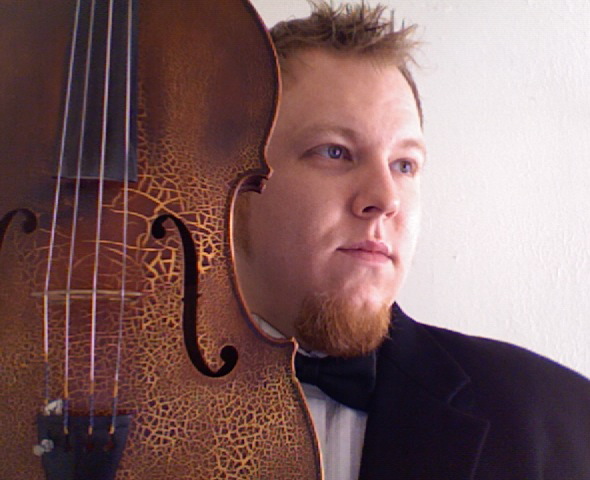 THOMAS LEA, Viola
Thomas Lea is a California native. He received his Bachelor of Music Degree from the San Francisco Conservatory of Music and his Masters in Viola Performance from UCLA.
Mr. Lea has performed with such orchestras as the New World Symphony and the Oklahoma City Philharmonic. He has also performed with artists such as Yo-Yo Ma, Robert Mann, Donna Summer, Josh Groban, Annie Lennox and Terrence Howard. Currently, Mr. Lea's busy professional career includes session work and extensive work as a freelance violist.
SIMONE VITUCCI, Cello
Cellist Simone Vitucci has appeared in concert and in television and radio broadcasts in Europe, North America, and her native South Africa. In addition to numerous recitals across North America and Europe, Ms. Vitucci has made solo appearances with the Cape Town Symphony Orchestra.
She graduated with degrees from the University of Miami and the University of Notre Dame, and has studied with Aldo Parisot at Yale University. Ms. Vitucci, a past prizewinner of the SASOL and UNISA music competitions in South Africa, has been the recipient of a National Endowment for the Arts grant as a member of the improvisatory chamber ensemble, Clogs. Currently Ms. Vitucci lives in Los Angeles, and enjoys a career performing with a diverse range of ensembles including Clogs, Loop 2.4.3 and Stick Music.
STEVE DRESS, Double Bass
Steve Dress brings his lyrical sound and musical sensitivity to the double bass. Mr. Dress is a graduate of the Juilliard School of Music where he was the recipient of the Cartwright Scholarship. He studied under the virtuoso Eugene Levinson, Principal Bass of the New York Philharmonic. Mr. Dress has been a featured bassist, both as a soloist and as a chamber musician, in New York's most prestigious and legendary venues, including Carnegie Hall, Alice Tully Hall, Avery Fisher Hall, and The Juilliard Theater with members of the New York Philharmonic and the Metropolitan Opera Orchestra.
As a special guest of the L.A. Philharmonic's Principal Concertmaster, Martin Chalifour, and The Sonus Quartet, Mr. Dress performed in a series of chamber music concerts during the inaugural season at Walt Disney Concert Hall. Recent performances include collaborations with a diverse cast of renowned artists including Andrea Bocelli, Natalie Cole, Reba McIntyre, Jeff Beck, Gnarls Barkley, and Rhianna. He has also performed for the Grammy Awards, the Jay Leno Show, and the American Music Awards, and serves as double bassist for the critically acclaimed Dakah Hip-Hop Orchestra, performing at the South by Southwest Music Festival (Austin, TX) and JazzFest (New Orleans, LA).
As a recording artist, Mr. Dress frequently collaborates with Grammy Award-winning composers and producers David Foster (Andrea Bocelli, Catherine Jenkins), Michael Jay (Celine Dion), and Pat Leonard (Madonna, Pat Monahan). Additionally, he has performed on numerous motion picture soundtracks, including The Curious Case of Benjamin Button, G.I. Joe, Night at the Museum 2, Angels and Demons, Public Enemies, and Alice in Wonderland.
As a country performer, Mr. Dress often appears with RCA recording artist Christian Kane, including an exceptional performance at the Country Thunder Music Festival where he shared the stage with Brooks & Dunn and Big & Rich. In addition, he has contributed his talents to award-winning artists Enrique Iglesias, The Backstreet Boys and Limp Bizkit, while continuing to practice his more classical work through regular engagements in La Jolla's Athenaeum Performing Arts Library and Mexico's Centro Cultural as solo bassist of the Vanishing Borders Concerts Series.