KAREN BENJAMIN (soprano) has over twenty years of performing experience in musical theatre, opera, and cabaret. Among her many musical theatre credits, Ms. Benjamin was an original cast member of the Los Angeles production of Phantom of the Opera starring Michael Crawford.  She also starred in a Stephen Sondheim tribute with the Pittsburgh Symphony Orchestra.
This extremely versatile soprano has sung French cabaret songs at the Getty Center in Los Angeles, performed the songs of Kurt Weill with the Los Angeles Philharmonic Chamber Society and appeared as an orchestral soloist with major orchestras. Ms. Benjamin created the role of Rocket J. Squirrel in LA Opera's production of Les Moose: The Operatic Adventures of Rocky and Bullwinkle.
With her husband, classical radio celebrity Alan Chapman, she has appeared widely in cabaret evenings of Mr. Chapman's original songs as well as concerts dedicated to preserving the American Songbook. They have performed at Carnegie Hall, Lincoln Center, New York's Town Hall, Los Angeles Music Center, Geffen Theatre, Pepperdine University, Ford Amphitheatre, Broad Stage, Edye Second Space, Dallas Museum of Art, and many other venues across the United States.
Ms. Benjamin received her master's in vocal performance from the USC Thornton School of Music. In addition to an active private voice studio, she is a member of the faculty at Santa Monica College and Pasadena City College.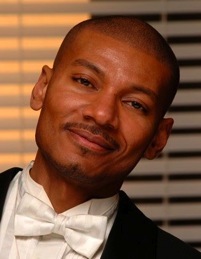 CEDRIC BERRY (bass-baritone) received his music diploma from Interlochen Arts Academy and both his Bachelor's and Master's degrees from the University of Southern California.  He has performed a variety of operatic roles including the title role in Puccini's Gianni Schicchi, Mephistopheles in Gounod's Faust, Falstaff in Nicolai's Merry Wives of Windsor, Leporello in Mozart's Don Giovanni, Sarastro in Mozart's Die Zauberflöte, Collatinus in Britten's The Rape of Lucretia and Shaunard in Puccini's La Bohème. 
As a resident artist with LA Opera he sang roles in The Barber of Seville, La Bohème, Samson et Dalila, Faust, La Rondine and Billy Budd.  Mr. Berry made his first European stage appearances in Spain, as Jake, in a concert version of Gershwin's Porgy and Bess.  He appeared with LA Opera at the Savonlinna Opera Festival in Savonlinna, Finland, and sang a concert in tribute to Paul Robeson for the Banlieurs Bleues festival in Paris. 
He has appeared with the Los Angeles Philharmonic, Pacific Symphony, the Arizona Symphony, the Santa Fe Symphony, the Luckman Jazz Orchestra, the New West Symphony and many other orchestras. Recent engagements include the west coast premiere of "The Haroun Songbook" with Southwest Chamber Music and the world premiere of The First Lady, an opera based on the life of Eleanor Roosevelt.  He has been the recipient of several awards including first place in the Metropolitan Opera Western Region Competition. 
VICTORIA KIRSCH (pianist) curates and performs a wide variety of vocal and chamber music programs throughout Southern California, as well as concerts based on museum exhibitions.  She continues her association with Julia Migenes, playing for the celebrated soprano's shows, Diva on the Verge and Franz Schubert, throughout the world.  
A recent recipient of an NEA Chairman's Grant, she co-created This, and My Heart, the first of several staged art song/poetry collaborations.  She serves as music director/pianist of both the Los Angeles-based Operetta Foundation, which presents staged concerts of rare operetta gems, and Opera Arts, which presents opera-related events in the Palm Springs region. Victoria serves on the faculty of SongFest, a Malibu-based summer art song festival, and she is a popular teaching artist for Los Angeles Opera's Education and Community Programs Department.  She has served as an official pianist for the Operalia Competition and the Metropolitan Opera's National Council Auditions in Los Angeles.  
She was a vocal faculty member at USC's Thornton School of Music, and she was associated with the Music Academy of the West in Santa Barbara for many years, playing in the studio of renowned baritone and master teacher Martial Singher and serving as a member of the vocal faculty.
ALAN CHAPMAN (double bass and vocals) is a composer/lyricist, pianist, radio host (Classical KUSC – 91.5 FM) and educator. After receiving his undergraduate degree from the Massachusetts Institute of Technology, he earned a Ph.D. in music theory from Yale University. He is currently a member of the music theory faculty of the Colburn Conservatory and was a longtime member of the music faculty at Occidental College.
 
Well known as a pre-concert lecturer, Mr. Chapman has been a regular speaker on the L.A. Philharmonic's "Upbeat Live" series since its inception in 1984. He also works closely with the Los Angeles Master Chorale, Los Angeles Opera and Pacific Symphony. He is heard globally as programmer and host of the inflight classical channel on Delta Airlines.
Mr. Chapman is also active as a composer/lyricist. His songs have been performed and recorded by many artists around the world and have been honored by ASCAP, the Johnny Mercer Foundation, and the Manhattan Association of Cabarets. His children's opera Les Moose: The Operatic Adventures of Rocky and Bullwinkle was commissioned by LA Opera for its 1997-98 season. Peter and Mr. Wolf, the story of an eighth-grader's tribulations in finding a science project, was premiered by Chamber Music Palisades in 2008 with Mr. Chapman as narrator.