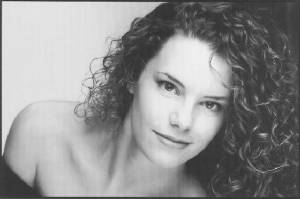 Saturday, March 8, 2008

Soprano COURTNEY HUFFMAN is a singer of exceptional artistry and versatility.  A native of Redmond, Oregon, Ms. Huffman holds a Bachelor of Music degree from the University of Illinois at Urbana-Champaign, where she received University Honors, and a Masters in Music, specializing in Vocal Arts, from the USC Thornton School of Music.
A very theatrical and inviting artist, Ms. Huffman has appeared in over twenty operas and opera scenes – including with the Aspen Opera Theater Center, USC Thornton School of Music Opera, and the Illinois Opera Theatre – as well as numerous solo performances in oratorios and on the recital stage.
This June, Ms. Huffman will make her professional opera debut with the Intimate Opera Company, singing the role of Violetta in La Traviata.  Other stage credits include Frasquita in Carmen, Belinda in Dido and Aeneas; Drusilla in L'Incoronazione di Poppea; Zerlina in Don Giovanni, Johanna in Sweeney Todd, and the title role of "Girl" in the world premiere of Geoffrey Pope's The Stone House, performed with the Chamber Opera of USC.  In April 2007, Ms. Huffman performed the role of Betty in USC's production of Lowell Liebermann's Miss Lonelyhearts, co-produced with Juilliard and the College-Conservatory of Music at the University of Cincinnati.
In August 2008, Ms. Huffman will make her professional concert debut with the Sunriver Orchestra, in Sunriver, Oregon.  She has also performed an extensive repertoire from musical theater and Broadway shows in a number of venues around the country, and her filmography includes the soundtrack of the documentary film Welcome Back Riders, produced by Swashbuckler Studios.
In 2005, Ms. Huffman made her television debut on a PBS affiliate performing various musical selections in "Dan Perrino presents Courtney Huffman."  The following year, performances in Shanghai and Hong Kong marked her international debut.

The year 2006 also saw Ms. Huffman's debut at the Aspen Music Festival in beautiful Colorado, where she performed Sextine Cyclus, an orchestral piece composed and conducted by Marc-André Dalbavie, with the Aspen Contemporary Ensemble.  She was then invited by National Public Radio to record this piece in Harris Concert Hall, Aspen, for a nationwide broadcast.  Listen to Ms. Huffman on NPR's Performance Today
Ms. Huffman has won numerous honors and awards, including the New Horizon Fellowship (Aspen Music Festival and School); the Gladys Turk Foundation Scholarship in Vocal Arts/Opera (USC Thornton School of Music); the Gina Monastero Memorial Award (Bel Canto Contest, Chicago, IL); the Shirley Rabb Winston Scholarship for Voice (offered by the National Society for Arts and Letters); and the Theodore Presser Undergraduate Award.
The L.A. Musical Salon is thrilled to be able to present Ms. Huffman in collaboration with The Blue Rose Trio, at its second concert of the 2008 season.
For more info on Ms. Huffman, go to http://www.courtneyhuffman.com/