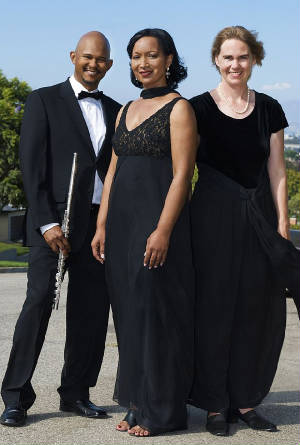 Saturday, March 6, 2010
THE AURIA TRIO
The Auria Trio blends the lushness of a harp with the whimsy of the flute and the drama of a soprano, and fuses them into artful interpretations of traditional chamber music and more modern treasures.
Immediately intimate and reflective, Auria Trio's performances ultimately bear the fruit of passion and great spirit. That delicate combination is what gives Auria Trio their unique sound and their audiences a rare treat of serenity and inspiration in a busy, fast world.
The trio brings together the talents and experiences of professional artists who have performed all over the globe. Now residing in Los Angeles, they discovered a collaboration that's just beginning to catch the ear of music lovers across the city.
YOLANDA MITCHELL WEST
Soprano
Soprano Yolanda West performs frequently as a soloist throughout the United States and Europe.  She has appeared on network television and public radio, and in recital for a number of organizations.  With a powerful, yet sweetly inspirational voice, Ms. West appears regularly with symphony orchestras throughout Southern California, most notably at Walt Disney Concert Hall. 
Ms. West is a past prizewinner in several voice competitions, including the Metropolitan Opera National Council Auditions-Western Region, Southern California Opera Guild, and the National Association of Negro Musicians, Inc.
Her CDs include: Sweet Sweet Spirit, a collection of art songs, arias and spirituals; Lord, How Come Me Here?, a collection of sacred songs and spirituals; and An Afternoon of Sacred Songs, Spirituals and Arias.
A Monterey Peninsula native, Ms. West received her Bachelor of Music in Voice Performance from Willamette University.  She has studied with Val Underwood of Santa Barbara and soprano Julianna Gondek of Los Angeles. 

MICHAEL MORTON
Flute
Flautist Michael Morton provides the rich, melodic sounds of the trio, and he has performed throughout the US, China and Europe.  The recipient of numerous awards, including the National Collegiate Music Award, Mr. Morton is the principal flutist for the Southeast Symphony, and a session player in Nashville and Los Angeles.  He has released several CDs; his most recent release is entitled Peace and Quiet.
Mr. Morton studied jazz at the Berklee College of Music in Boston.  He received his Bachelor of Music from Chapman University, and his Master of Music degree from the USC Thornton School of Music, both degrees in classical flute performance.  His primary teachers were Arthur Hoberman and Jim Walker.
ANDREA THELE
Harp
Harpist Andrea Thiele, a native of Germany, was principal harpist of the Phoenix Symphony from 1998-2001, and principal harpist of the Staatskapelle Schwerin from 1994-1998.  She has played with the orchestras of the Hamburgische Staatsoper, Deutsche Oper Berlin, Münchner Philharmoniker, Los Angeles Philharmonic, and several other local L.A. area orchestras.
As a soloist, Ms. Thiele has performed with the Polish Chamber Orchestra, the Warsaw Symphony, Yale Philharmonia, Phoenix Symphony, and Orquestra Sinfonia Nacional of Mexico City. In 1999, she performed at the World Harp Congress in Prague with one of her chamber music groups.
Her catalogue includes a number of recordings for various European broadcast corporations, as well as two solo CDs, Harfe/Harp and the Harp Music Sampler (the latter showcases a wide variety of classical, popular and folk music for the harp).  In 2006 she released a CD of flute and harp music with her duo partner Elizabeth Buck.
Ms. Thiele received her diploma and artist degree with honors at the Hochschule fur Musik, München, and her Master of Music Degree from Yale University.