"The Blue Rose Trio was dynamic and passionate in its performance…"
— The Film Music Society
 "Think talent.  Think stretching to attain a fresh romantic beauty.  Think intelligence.  Think new."
 — Anchorage Daily News
The Blue Rose Trio is one of today's most exciting young ensembles:

         Virtuosity … Winner of top prizes in the Coleman, MTNA, and Peninsula Chamber Music Competitions … international performances in Jerusalem, Tel Aviv, Shanghai, Hong Kong, Rio de Janeiro, France … featured artists at the Los Angeles County Museum of Art's Sundays Live concert series … multi-year grant recipient in the prestigious Protégé Program of the USC Thornton School of Music….

        Versatility … Classically trained, with a wide-ranging repertoire that includes popular, film, Broadway, jazz, folk and world music….

        Vision … Enthusiastically devoted to music outreach, bringing the joy of music to a public of all ages, especially children … expanding the repertoire for piano trio by commissioning new works from young emergent composers working in a broad spectrum of styles….

For more info on the Blue Rose Trio, go to www.bluerosetrio.com
Audrey Solomon, Violin – Crowned Miss Alaska in 2000 and winner of the Bert Parks Talent Award at Miss America 2000, as well as numerous other music competitions and awards, violinist Audrey Solomon is dedicated to a modern musical career with a diverse approach.  A native of Alaska, Audrey began studying violin at the age of four, received her Bachelor of Music degree from the Cleveland Institute of Music, and both her Masters and a Graduate Certificate in violin performance from the USC Thornton School of Music.
 In addition to her chamber work with the Blue Rose Trio, Audrey maintains an active multi-faceted career in music – she is a member of the string section of the Pasadena Symphony, a studio violinist recording for artists such as Rod Stewart, Barry Manilow, Christina Aguilera, Mary J. Blige, Mandy Moore, and for major motion picture films (most recently, Spider Man 3 and Beowulf), plays electric violin in classical crossover and folk fusion groups, has performed live with pop artists such as Britney Spears on Saturday Night Live, Il Divo on the Tonight Show, and Chicago's Peter Cetera, and tutors private violin students.  With her mother, violinist Beverly Beheim, Audrey founded a summer concert series and chamber music workshop for young musicians called "Chamber Music Intensive" in Alaska, where she performs and teaches with Alaskan and out-of-state guest artists, including her Blue Rose Trio colleagues.  She recently traveled to Northern Thailand as a Rotary volunteer, combining violin outreach with teaching English.
Rose Chen, Piano – Born and raised in Taipei, Taiwan, Rose began attending schools specializing in music at age six.  She won first prize in the Kawai Piano Competition for Young Artists, and was invited to perform in the National Concert Hall of Taiwan at age 12.  After winning awards in several other piano competitions in her native Taiwan, driven by a very curious and adventurous heart Rose moved to the United States in 1997.  She received her Bachelor of Music degree in piano at the New England Conservatory in Boston, and her Masters at the San Francisco Conservatory.  She is currently pursuing her Doctorate of Musical Arts in Keyboard Collaborative Arts at the USC Thornton School of Music.
 In addition to her busy schedule with the Blue Rose Trio, Rose has appeared in master classes with Midori, the Eroica Trio, Takacs Quartet and Julliard Quartet.  Having lived in and traveled to numerous regions of the world, Rose's vision of music is both wide and deep.  She is involved in research in Asian and Middle Eastern music; jazz is also a big interest.  To Rose, chamber music of all kinds remains the most natural and effective means of expressing herself and bringing the joy of music-making to people everywhere.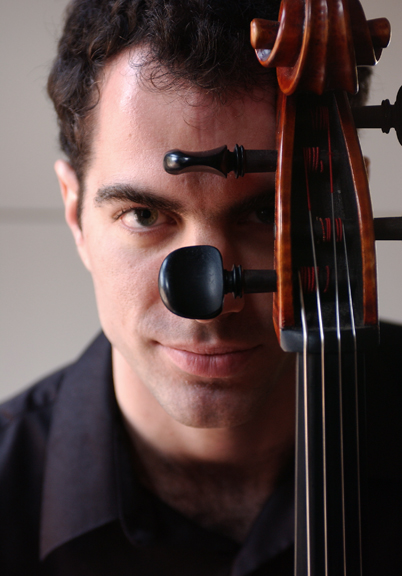 Lars Hoefs, Cello – A native of Wisconsin, Lars began playing the cello at age four.  He earned his Bachelor of Music degree in cello from Northwestern University, where he was principal cellist of the University Symphony and Chamber Orchestras and won the University Chamber Music Competition as a member of the Mandala String Quartet.  He has won numerous other competitions and awards, and received both his Masters and his Doctorate of Musical Arts (majoring in cello performance with secondary fields of musicology, chamber music and conducting) from the USC Thornton School of Music.
Lars enjoys the distinct privilege of playing on a magnificent cello made in the 1820's by Thomas Kennedy of London, one of the premier cello makers of the English school, on loan from the Peter Mandell Collection.
While committed to his work with the Blue Rose Trio, Lars also plays regularly with the Camerata Pacifica ("the best chamber music reason to get out of the house" — Los Angeles Times).  With pianist Marek Zebrowski, Director of the Polish Music Center at USC and improvisation partner to filmmaker David Lynch, Lars has championed rare Polish works in New York, London and Southern California.  He has performed quartets with Midori at Disney Hall and for USC's Contemporary Music Ensemble, toured with Chamber Music America founder Peter Marsh, and collaborated with members of the Ysaÿe Quartet.  In demand as a writer, Lars is the program annotator for the Pasadena Symphony's 2007-2008 season.  As a composer, his works and improvisations reveal an interest in world music, and are shaped by the philosophy of Jiddu Krishnamurti.
Lars will be leaving Los Angeles in March 2009 to take up a fabulous nine-month assignment as Assistant Principal Cellist of the Brazilian Symphony Orchestra (Orquestra Sinfonica Brasileira) in Rio de Janeiro, Brazil.